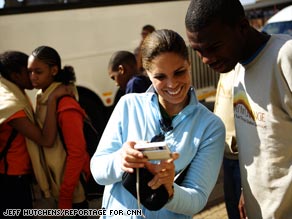 Thirty kids, ages 12 to 16, from Bushwick, Brooklyn, were chosen to participate in "Journey for Change," a youth empowerment program created by Malaak Compton-Rock.
In early August 2008, they traveled to South Africa with Compton-Rock and CNN Anchor
Soledad O'Brien
. The group returned to the U.S. on August 13.
Since their return, they've been fundraising and doing service project as "Global Ambassadors" for "Journey for Change." In November, they made a trip to Washington, D.C. where, among other things, they met with Congresswoman Maxine Waters. For three days in late December 2008, they volunteered at several locations around Brooklyn: a daycare center, a soup kitchen, an abused children center, and a homeless shelter. They also picked up garbage in the streets of Bushwick.
This spring they will travel to New Orleans to help rebuild homes.
CNN asked them to
share their thoughts and experiences by blogging
.
In July of this year, their journeys will be featured in "Black in America 2," a CNN Presents documentary hosted by Soledad O'Brien.