Soledad O'Brien left March 12 with CNN crew members for the Japanese earthquake and tsunami devastated areas of Japan.
Arriving Sunday (our time) she posted "230am and just arriving in Sendai. We leave after 2 hrs of sleep to head north to see damage at first light."
Soledad has been reporting during the evening
Anderson Cooper 360
program and throughout the day.
On 3/15, she reported online that she was "Close to Akita--very snowy.
Brutally cold here--really miserable for evacuees. Little food water and no heat and power"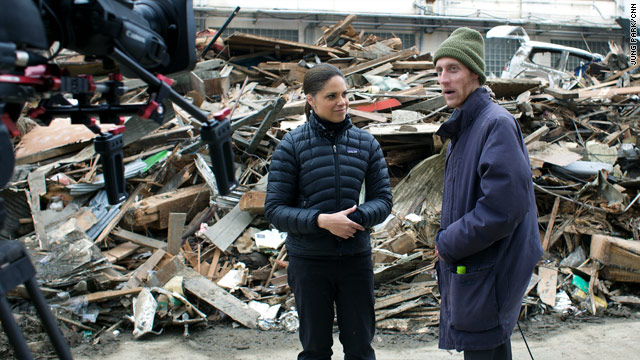 Soledad with Paul Fales
O'Brien filed
this Reporter's Notebook report
(see video on site) about reuniting an American in Japan with his family.
American Paul Fales was one of the first passengers off the ferry from Oshima. A slight man of 25, he looked pale, cold and anxious as he made his way off.

He'd ridden out the massive earthquake in the elementary school where he was an assistant English teacher. High ground protected the students when the tsunami rushed in, and he was back in Kesennuma to see how his apartment had survived. In spite of the debris around him, he was confident.

"I think it will be fine, really," he said. But that short walk would prove challenging — the streets impassable and filled with water, debris and mud. A roof fell into the center of another street, and we couldn't get around it. We turned back again...