The CNN DOCUMENTARY: THE ATLANTA CHILD MURDERS premieres this Thursday, June 10.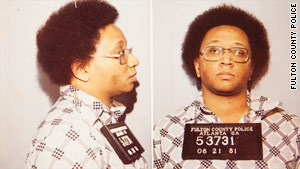 Almost thirty years after the murders of more than 25 black children, teens and young adults, CNN anchor and special correspondent Soledad O'Brien investigates the nearly two-year siege of fear that gripped the city of Atlanta.
Although Wayne Williams continues to profess his innocence from behind bars, with his arrest and conviction, he was described as both a "monster" – and the nation's first Black serial killer.
In his first television interview in 10 years, O'Brien has exclusive access to Williams and examines new evidence to offer viewers a new look at the persistent doubts, and decide for themselves who was responsible for all those lost young lives.
Viewers will be able to vote online for their verdict on the case at
CNN.com/atlantachildmurders
MORE
The Atlanta Child Murders: the Night Stalker
A&E -- American Justice: The Atlanta Child Murders
"The Atlanta Child Murders," with Soledad O'Brien, premieres at 9 p.m. on Thursday, June 10th and airs later that night at midnight and 3 a.m. All times Eastern.
The documentary also will be re-aired on Saturday June 12: 8 p.m., 11 p.m., and later at 2 a.m.
On Sunday June 13, it will air at 8 p.m., 11 p.m., and later at 2 a.m.