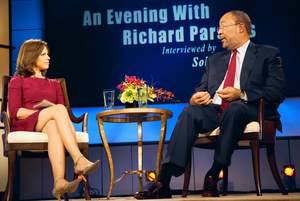 The life and career of Richard D. Parsons, the Chairman of the Board of Time Warner Inc., was recently honored by "The HistoryMakers" PBS-TV celebrity series, "An Evening With Richard Parsons."
Richard Parsons is considered to be one of the most respected African American executives in the country. The interview was taped in front of a live studio audience at George Washington University's Jack Morton Auditorium in Washington, D.C.
During the one-on-one interview, CNN anchor and special correspondent Soledad O'Brien took Parsons through an exclusive discussion of his life and career. Acclaimed journalist Juan Williams served as Master of Ceremonies. The PBS special will air starting in February 2009 nationally on PBS-TV.
"There are few things more important than cataloging our history, sharing our stories, inspiring our youth and paving the way for future successes," said Mr. Parsons. "I'm honored to join so many great history makers and humbled to be considered one of their number. I trust that contributing to 'The HistoryMakers' will help build and protect our vital historical and educational archive."


"Richard Parsons is one of the most significant people in today's business world. His background and his story are remarkable and we are so very pleased that he agreed to allow us to feature him. We are also delighted that Soledad O'Brien did such a great interview," says Julieanna Richardson, Founder & Executive Director, "The HistoryMakers."